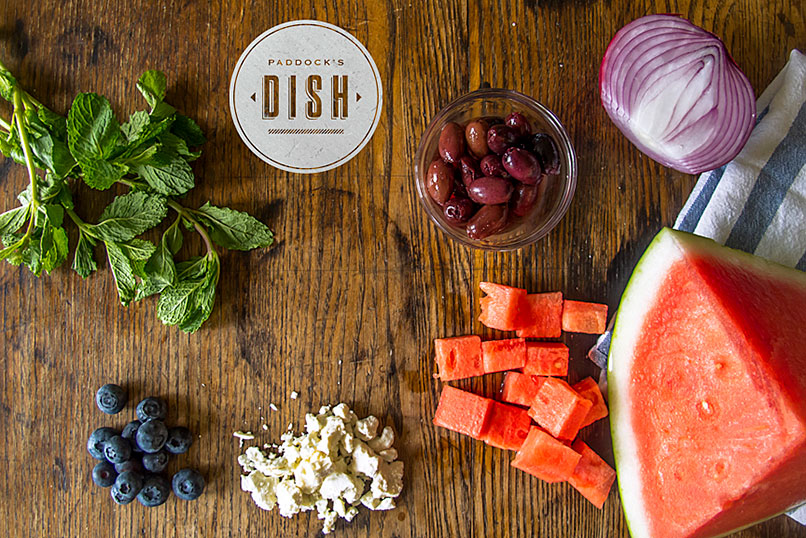 You have no excuse for showing up empty handed to your Fourth of July BBQ this week, because this salad is so easy it's not even fair. Plus, with it's red, white and blue color pallete, you'll finally have an accessory to match your American Flag tank top.
Ingredients
(all measurements here are approximate)
4 cups watermelon, cut into bite sized cubes
1 bunch fresh mint, coarsely chopped
1 cup kalamata olives, coarsely chopped
¾ cup crumbled feta cheese
1 cup fresh blueberries
½ red onion, coarsely chopped
For the vinaigrette
¼ cup olive oil
2 Tbsp red wine vinegar
Cracked black pepper
Step 1:
Gather your ingredients together. You're halfway done at this point.
You'll be assembling this salad right before serving. This will prevent all the flavors from mingling, which you don't really want here.
Step 2:
Cut the watermelon into bite sized cubes, place into a bowl you plan on serving the salad in. Chop mint and lightly mix into watermelon. Cover and refrigerate until ready to serve.
Step 3:
Chop the onion and olives, and place them in a separate bowl with the blueberries. Cover and refrigerate until ready to serve.
Step 4:
Make the vinaigrette. Easiest way is to pour olive oil, red wine vinegar and cracked pepper into a small jar with a tight fitting lid, and shake the hell out of it. If you don't have a jar, slowly pour the olive oil into the vinegar while whisking to incorporate, then add the cracked pepper.
Step 5:
That's pretty much it. Go enjoy yourself. Grab a beer and relax. When it's time to serve, add all the chopped ingredients to the watermelon bowl along with the feta cheese crumbles. Give the vinaigrette one last shake, pour over the salad and gently mix it to incorporate everything. Serve immediately.