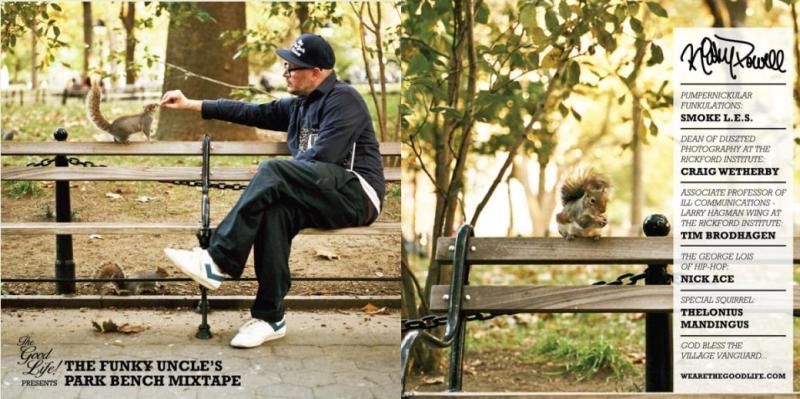 For Ricky Powell's 50th Birthday we got Ricky together with DJ Smoke L.E.S. to make some mixtape history. May we present the result: The Funky Uncle's Park Bench Mixtape. Feel free to share, download, and repost as you see fit. Limited Edition hard copy CD's will be available at The Rickford Institute All-Star Classic Group Photography Exhibition, Curated by Ricky Powell at Milk Studios this Saturday December, 17. A little blurb about the release is below.
New York City based lifestyle agency and creative collective TheGoodLife! has partnered with famed photographer and noted music historian Ricky Powell and OG DJ Smoke L.E.S. to produce The Funky Uncle's Park Bench Mixtape.
Released on the occasion of his 50th birthday, The Funky Uncle's Park Bench Mixtape is Ricky Powell's sonic interpretation of what it means to live TheGoodLife! and features a collection of rare tracks from the golden era of funky jazz . Curated to, in his words "be like a collage of colorful characters who make the kind of music that enhances the ambiance of any occasion," the mix is nearly an hour and a half of funk flavor sprinkled with Ricky-isms.
The Funky Uncle's Park Bench Mixtape was mixed by DJ Smoke L.E.S., another NYC native and music purist who had this to say about the project, "To be in the realm of an iconic figure like Ricky Powell, whose credibility speaks for itself, was amazing and I was humbled and honored to take part. Ricky's music knowledge is incredible; he's literally like an encyclopedia."